Between all the big, hype reveals in Nintendo's mini Direct earlier last week, among the shadow-drops released same-day was a little title called Good Job!, a game that at first glance looks a bit like Job Simulator meets Human Fall Flat. And really, that's a very apt description for what amounts to be a Nintendo-published indie treasure; something that the Switch has become known for. Developers Paladin Studios out of The Netherlands, known for other titles such as My Tamagotchi Forever and Amazing Katamari Damacy, do a great job at breaking down what amounts to extreme video game-style nepotism in Good Job!, and we're here to show you how.
Simple Style is Sometimes Best Style
Take just an initial glance at Good Job!, and it doesn't look like anything to blow your skirt up. You control a stick-figure styled character whose father controls the company you're working for. You're tasked with mundane day-to-day jobs that you can use physics-based gameplay to complete carefully and efficiently, or by causing as much chaos as possible. The visuals are simple, but somehow still striking in the use of color contrast and smooth, polished animations.
The hubs between level groups are simply different floors of the office building, essentially climbing the building in an elevator, with rooms on each floor representing the different levels. When you enter one, after the level has loaded you'll be presented with a standard-looking office building floor and a puzzle to solve. Simple enough right? Your HUD shows you your task time and the amount of damage you've caused.
Physics Play Done Right
There's essentially two ways to do each task; the "right" way, by doing it as safely and efficiently as possible without causing damage to company property. Or the "wrong" (i.e., fun) way, by using the game's physics system to cause as much chaos and damage as possible while still completing the task at hand (essentially, being a dick). And since you can't be fired, why not? Pretty much anything you can see before you on a level floor can be interacted with and/or moved, which makes for some very chaotic situations on some levels.
For example, one level will task you with replacing a broken projector (and for some reason, the projector is even larger and heavier than you are). Now you can obviously grab the good projector from across the office floor and wheel it through doors, around desks and people into place, plug it in and call it quits, right? Or, you can use a plugged in power cord like a slingshot, and fling the entire huge projector through walls and desks into the office where it's needed, causing tens of thousands of dollars of damage in the process. Now I ask you, which one sounds more fun?
The movement with the player character isn't the best; it's a little clunky at times, but that's also part of the fun of the physics-play.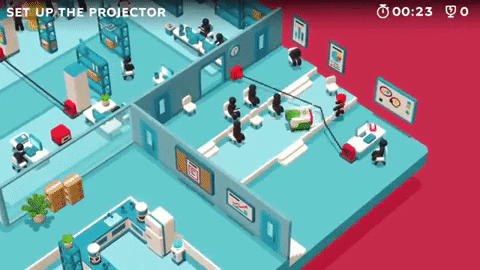 Simple Play With Simple Ambiance
The music in the game just adds a whole other level of hilarity. As you're flinging printers and projectors through walls, sending workers flying across the office with their personal belongings, and riding floor buffers around like a bull at a rodeo, there's a nice elevator music-like track playing in the background to set the mood.
The quality of the sound effects is very good as well. Playing alongside the feel of the physics, the sounds that the office equipment makes when it does the Kool-Aid Man burst through the office wall just makes it feel weighty and like you're actually doing damage to a building.
Collectors and Completionists Rejoice
While it's not only just fun to throw office equipment through walls and cause complete bedlam as your office mates sit on and watch like it's a normal day at work, the game gives you a few reasons to come back and play it over and over as well. Each mission you do will rank you from S on down, mostly dependent on how long you took to complete it. The damage caused and number of items destroyed during the mission factor in as well, but only hold a fraction of the weight in your scoring. This encourages players to play either way they want without feeling penalized for doing so.
In addition to getting top score, there are also outfits to find on most levels that you can equip any time during play. Things like a construction worker, a knight, a robot, a viking, and much more. Play each level until you find them all.
Destroy Your Job With a Friend
Probably one of the best parts of Good Job! is the fact that you can play it multiplayer. While there's no supported online or Switch-to-Switch local play, a friend can grab a second JoyCon and play couch co-op with you. They'll be able to do everything you can, which means twice the chaos and potentially double the completion speed for missions. Play it through once on your own, then grab a friend and try it through as a duo.
---
Good Job! is the kind of game you want available to pick up for 10 or 20 minutes at a time, play a stage or two, and then go about your day; the perfect on-the-go game suited for the Switch. But if you get really invested in it, it doesn't feel stale or cumbersome to play for extended times. At $20 on the eShop, it's a justifiable purchase as well. It sits way high up on the list of great physics-based games on the market.
Good Job!
8
Hilarious
The simplistic style and physics based fun of stick figure bedlam is executed well in this indie treasure on the Nintendo Switch.